Torrey Pines Gliderport Tour
April 13, 2019 @ 11:30 am

-

1:00 pm
Free Historic Tour
Walk the cliffs and explore the relatively unknown yet significant aviation history of the National Register listed Torrey Pines Gliderport!
Led by Dr. Gary Fogel, an award-winning author and authority on early CA aviation, as the last coastal gliderport from the 1930s, this tour will highlight the history of fixed-wing gliding in San Diego; the gliderport's various uses and operators over the years including the Navy; and what the future may look like for this unique resource, as it's partially owned by the City of San Diego and UCSD.
Starting at the northwestern end, we will explore the Torrey Pines Gliderport, a National Register site, and learn about the history of gliding in San Diego, Camp Callan, and what the future holds for this significant historic resource.
Due to the terrain of the site, ADA access will be limited. Please wear shoes suitable for walking in dirt over uneven terrain, and bring sunglasses, hat and water. Expect dirt trails and a no-shade environment with incredible scenic views and hear about the expansive gliding history of San Diego!
DIRECTIONS
I-5 to Genesee Ave West;
At the top of the hill turn left on N. Torrey Pines Road;
At the second light turn right on Torrey Pines Scenic Drive; and
Torrey Pines Scenic Drive ends in a cul-de-sac.
Continue straight into gliderport entrance as the road becomes dirt;
Continue straight in the direction of the large steel Navy tower; and
Park to the west of that tower, facing the ocean along a steel barrier (where the red arrow points below):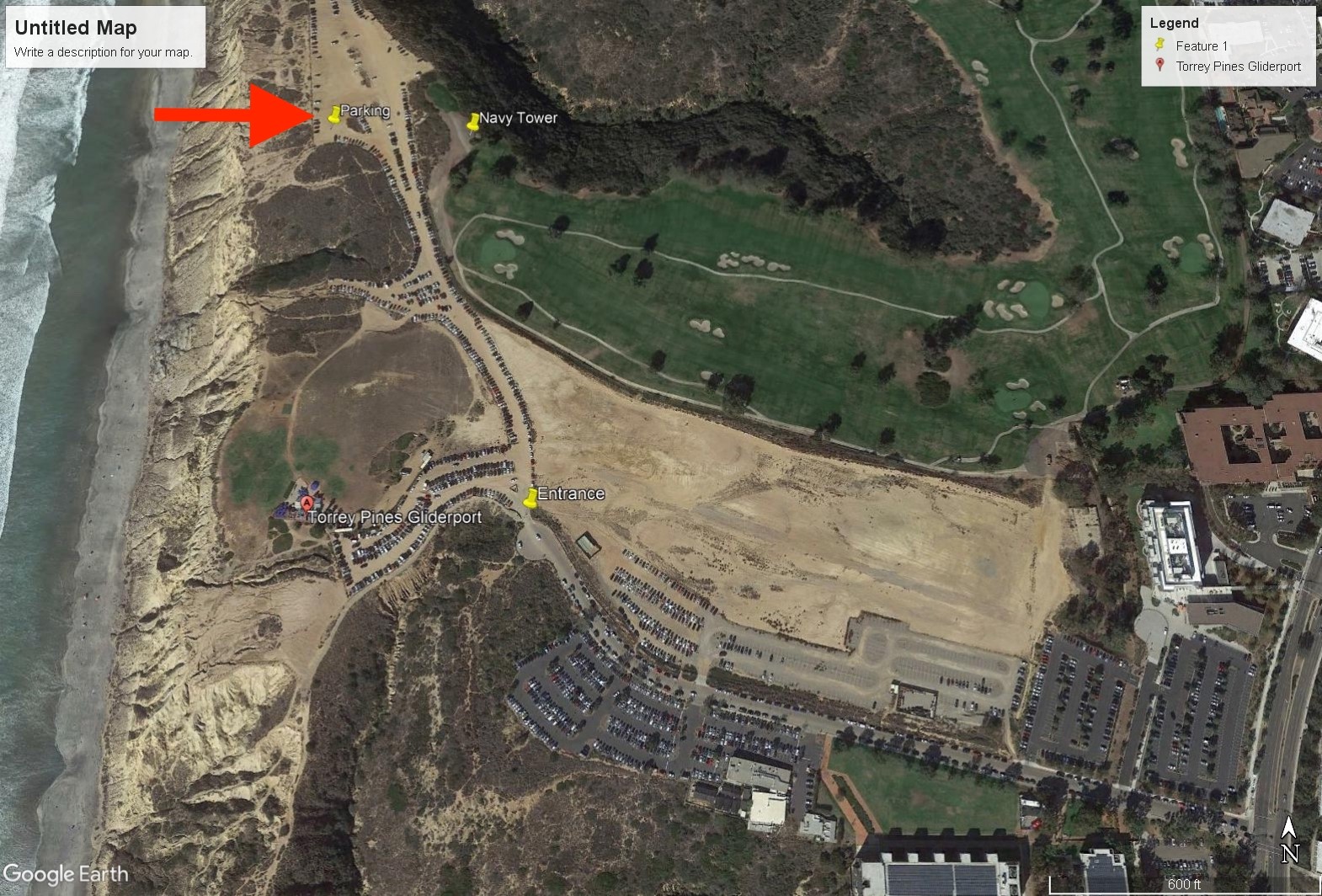 PARKING
Parking can be difficult as it's a popular location – plan on arriving early (11:30-11:45) and then we'll start the tour promptly at noon.